Customize your Ergonomyx Sit Stand Desk and optimize your workspace and lifestyle. Quickly adjust the height using the embedded touch sensor. Your space matters, and our smart desk also has collision detection to eliminate possible accidents.
There's only a few left of this item in stock!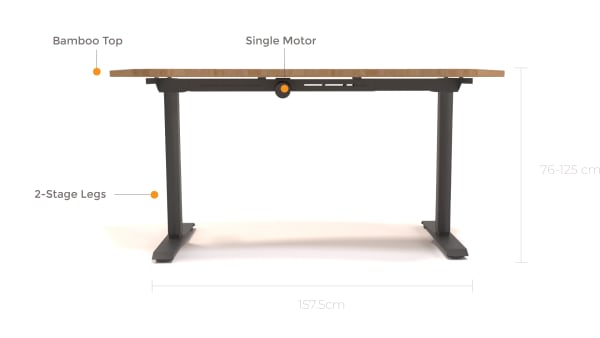 Tabletop Specs
Sizes

Ergonomic: 62x25 Inches




Rectangular-L: 60x30 Inches




Rectangular-M: 48x30 Inches



Tabletop Colors

Bamboo




Black

Leg Colors

White




Grey




Black

Tabletop Material
Bamboo
Weight
20kg
Technical Specs
| | |
| --- | --- |
| Power Input | 100KV-240KV |
| Load Capacity | 70kg | 154lbs |
| Noise | < 50 dB |
| Processor | Dual Core BLE/Wifi Enabled Microcontroller |
| Height Range | 29"-49.5" |
| Inputs | RJ45 | AC |
| Lift Speed | 25mm/s |
| Stroke | 500mm |
Adjustable height
Embedded touch sensitive control panel
Collision detection
Bluetooth compatible with the Ergonomyx App
Wireless connectivity to Workspace Fitness Devices
Reminds, motivates, facilitates and, if desired, forces alternating between sitting and standing
Wi-Fi ready
Patent pending off-the-grid operation (when Wi-Fi is not available)
Desk Assembly
Quick Start Guide
Cable Management Spine Assembly
Return Policy
We accept returns up to 30 days after the product was delivered. Please contact [email protected] to initiate a return. We will issue a full refund to Ecommerce orders minus the return shipping cost upon receipt and inspection of the returned item at our office in Victoria.
Warranty
All of our desks (and bikes) are protected by a 2-year warranty.
How much is shipping?
It's free to Canada and US.
---
Can you mount a monitor arm?
Yes! Our desktops are made from real bamboo using a special pattern to provide maximum strength, so screwing or clamping a monitor arm would not be an issue. They also have a UV-cured, water-based polyurethane coating which would protect against any scratches a monitor arm might cause. Single or Dual Monitor arms are also available for purchase from Ergonomyx!
---
What are the dimensions of the different sizes of desks?
| | Ergonomic | Rectangular-L | Rectangular-M |
| --- | --- | --- | --- |
| Size | 62x25 Inches | 60x30 Inches | 48x30 Inches |
---
The leg frames and cables for my desk have arrived, but the tabletop is missing?
Although they are shipped together, sometimes there is a lag in the arrival of the tabletop. Rest assured that it will arrive in a matter of a few days.
---
How do you protect against unintended height adjustments?
You can temporarily disable gesture and touch controls using our "locking" function to prevent unintended height adjustments. The locking feature is enabled or disabled by touching both the up and down sensors at the same time until a vibration is sensed.
---
Have a different question? Please refer to our FAQ page or contact us at [email protected]
Sit, Stand, Move
The human body was designed to be active and on the move. Optimize your time spent behind the desk by alternating between sitting and standing using our Smart Sit Stand Desk.
Embedded Touch Sensitive Control Panel
Adjust the height of your Smart Desk using a discrete touch sensitive control panel. Place your hand underneath the sensor to raise it, and on top to lower it. Lock or unlock the desk height by touching the top and bottom at the same time until the panel vibrates.
Make it your own
Customize the desk to your liking; choose between multiple tabletop designs and adjustable frame colors
Made with 100% real bamboo
All of our desk tabletops are made with 100% authentic, durable bamboo. Want to learn more? Check out our blog post Bamboo Tabletops - Do They Hold Up?
Wirelessly connect with your desk
Connect to our patent pending Smart Desk Controller or Under Desk Bike via your smart phone. Use the Ergonomyx app to save height preferences, track health vitals, and measure performance.
Track data across all devices
User's performance data saved while using our Workspace Fitness® Devices is uploaded to our Cloud Environment Services from which our dedicated software or third-party software can access such data through cellphones, tablets, laptops or other smart devices.
Customer Testimonials
"I really love the Ergonomyx standing desk with the bike. As a graduate student who is now doing school from home, this desk and bike help me stay attentive because it gives me an outlet for my energy while in class."
- Catelin R., a satisfied customer
"I have been using a sit/stand desk and bike from Ergonomyx for the past couple weeks, and am really enjoying both. It's great to be productive and physically active throughout the day. My coworkers are jealous! The products work well and look great."
- Becky, a satisfied customer
"I was delighted with how attractive the standing desk is, plus how comfortable the bike is to sit on and add movement to my previously sedentary office hours!"
- Rita, a satisfied customer